Muscat: The German University of Technology in Oman (GUtech) has signed a cooperation agreement with the Danish company, COBOD, to manufacture and ship the first 3D printer for building and construction to the Sultanate, with the aim of developing academic capabilities, scientific and industrial research, and innovation, and building national capacities in advanced construction fields using 3D printing technologies.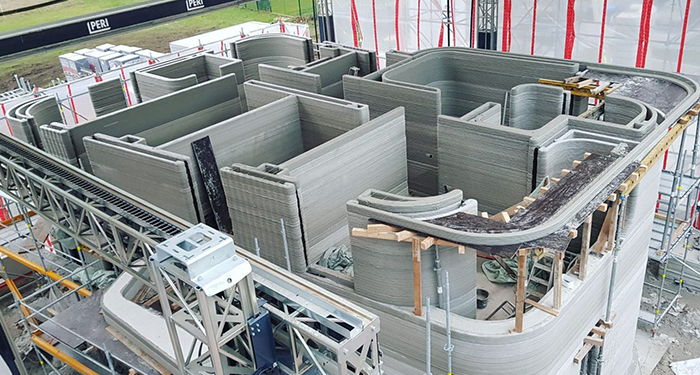 The agreement between GUtech and COBOD includes joint intensive programmes to train on-the-job trainers in 3D techniques in construction, and − in cooperation with the relevant institutions in the Sultanate and abroad − to develop local raw materials from the Sultanate as basic materials for 3D printers in line with appropriate construction requirements of the Omani environment and the region.
The agreement also stipulated the joint research between the two sides to develop future technologies and tools related to the new 3D printers in construction within COBOD's plan for research and development in the effective utilization of the machinery, building systems and materials used in construction.
It is projected that the first 3D building in the Sultanate will start printing before the end of this year. In coordination with the relevant authorities from the government, industry and academia, GUtech is currently forming joint teams to develop building materials suitable for this technology using Omani mineral ores.
The Danish company, COBOD, is one of the most renowned companies specialised in building 3D printing technologies globally as the company has already printed the first house in Europe using 3D printing. It also has numerous achievements in this field in many geographical regions across the globe and has a close scientific connection with a number of the most prestigious building development centres in the world.
It is worth noting that 3D printing technology for buildings is considered one of the Fourth Industrial Revolution technologies which will bring a substantial change in the construction sector and thus will influence the economy, business and people's lives positively. This technology enables a significant improvement in the speed of building completion and the ability to access innovative forms of buildings that have not yet been introduced with traditional construction mechanisms and techniques.
An additional benefit of 3D printing is its creation of employment opportunities for university graduates from different fields due to its reliance on advanced technology instead of the traditional methods which are reliant on intensive physical labour. In addition, this technology improves consistency, quality control, safety, construction time, and the effective use of project costs.
GUtech is one of Oman's most entrepreneurial universities offering internationally accredited undergraduate and postgraduate programmes to over 2300 students on GUtech's green campus. This later is home to numerous initiatives including Oman's first mechatronics lab, the solar training facility, Oman Hydrogen Centre, and the net-zero-energy eco-house. Having the 3D concrete printer will put GUtech in a pioneering position to revolutionize the design and construction process.