MOROCCAN COUSCOUS WITH ROASTED VEGETABLES
Ingredients
4 tbsp extra virgin olive oil
2 carrots, cut into quarters lengthwise and thinly sliced
2 red bell peppers, diced
1 zucchini, thinly sliced
1 red onion, cut into wedges and separated
1/2 cup slivered almonds
4 tbsp lemon juice
2 garlic cloves, minced
1 tsp turmeric
2 tsp cumin powder
2 tsp coriander powder
1/2 tsp ground cinnamon
2 tsp salt
2 cups couscous
1/2 cup raisins
2 1/2 cups chicken stock, brought to a boil
2 cup canned chickpeas, rinsed and drained
1/4 cup fresh cilantro, finely chopped plus extra for garnish
2 tbsp fresh mint, finely chopped plus extra for garnish
Preparation
Preheat the oven to 475°F. Toss the carrot, red pepper, zucchini and red onion in a baking dish with 1 tablespoon of the olive oil and bake for 15 minutes.
While the vegetables are cooking, lightly toast the almonds in a frying pan until they're golden brown.
Remove from the pan and set aside.
In a small bowl, whisk together the remaining 3 tablespoons of olive oil, lemon juice, garlic, cumin, coriander, cinnamon and salt, and mix well.
Once the vegetables have been roasted, mix the couscous, turmeric and raisins in a large bowl and pour over the boiling stock.
Fluff the couscous with a fork to separate the grains and stir through the carrot, red pepper, red onion, almonds, chickpeas, mint and cilantro.
Pour over the dressing and toss together until well combined.
Serve on a large platter, either warm or at room temperature with a garnish of cilantro and chopped mint.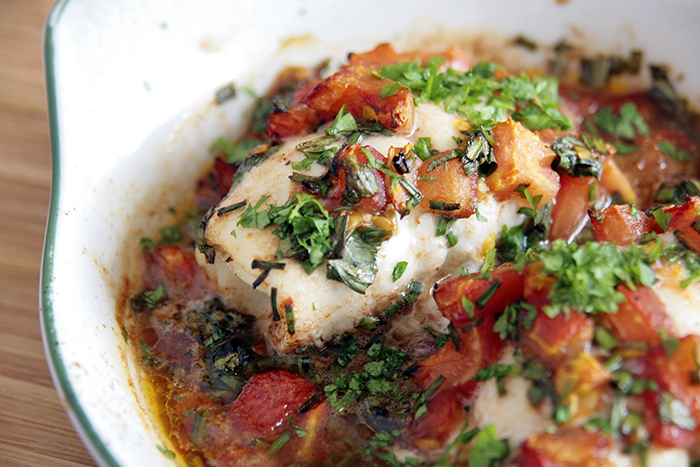 MEDITERRANEAN BAKED FISH
Ingredients
3 tbsp olive oil
1 medium onion, finely chopped
1 large tomato,finely chopped
6 garlic cloves, minced
1 tsp coriander powder
1 tsp chilli powder
1 tsp cumin powder
Salt and pepper as per taste
450 gms white fish fillet
Juice of 1/2 lemon
Zest of 1 lemon
Preparation
In a saucepan, heat olive oil on low heat. Add onions and saute until golden. Add tomatoes, garlic, spices, pinch of salt and pepper.
Cook till tomatoes are mushy and the spices have combined well for about 7 mins.
Heat oven to 400 degrees F.
Pat fish dry and season with salt and pepper.
Pour 1/2 of the cooked tomato- onion -spice mix into the bottom of a baking dish. Arrange the fish on top.
Add lemon juice and lemon zest, then top with the remaining tomato onion spice mix.
Bake in 400 degrees F heated-oven for 15 mins till the fish is cooked through. Remove from heat and garnish with fresh parsley.
Serve hot.