Muscat: Qaranqasho, an integral day in the Holy Month of Ramadan is celebrated across all of Oman.
On this special day, it is considered tradition for family members and other adults to give children small gifts, in the form of sweets, chocolates, cakes, juice, and a little money as well. These give them plenty of joy that stays with them for a long time.
It is also a day on which Omani families celebrate their folk traditions and customs. Both children and adults look forward to Qaranqasho eagerly, and prepare for it in advance.
The date on which Qaranqasho falls varies across different areas of the country: in places such as North and South Sharqiyah, it is on the 28th day of Ramadan every year, or on Tuesday, 11 May this time around, while in Wilayat Saham in North Al Batinah, it is on Sunday the 9th, which corresponds to the 26th day of the Holy Month. In Muscat, however, it falls during the middle of Ramadan.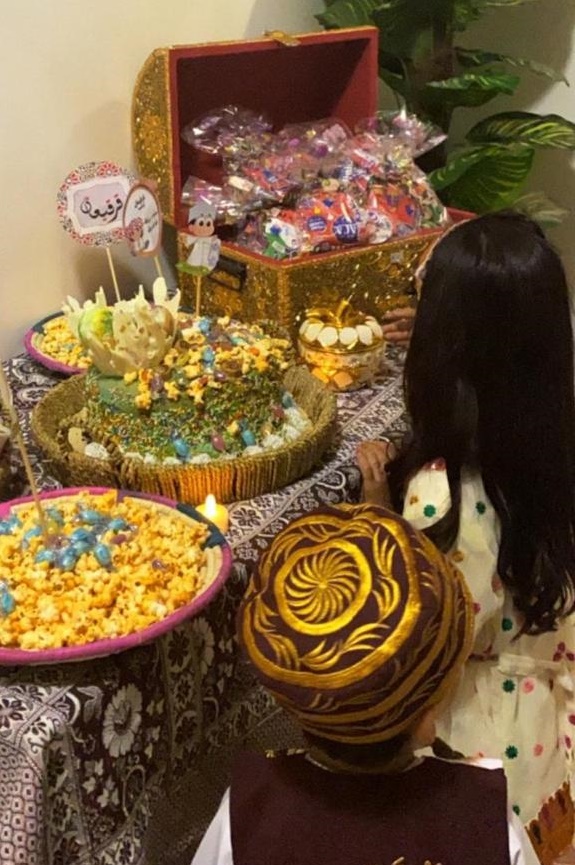 Since the start of the COVID-19 pandemic, however, Qaranqasho has only been celebrated within family members, with large-scale gatherings not allowed. For children, who chant hymns on this day, Qaranqasho is a time to feel the joy and spirit of Ramadan, while families see it as a time to commit acts of charity in the names of relatives who have passed away.
"On the night which marks the halfway point of Ramadan, after the Tarawih prayers, children wear traditional Omani clothes and carry bags in their hands with which to collect sweets," said Mahmoud Al Raisi of Bowshar in Muscat. "They go to other's homes, where people welcome them, share in their joy, and thank those who give them sweets, while good-naturedly teasing the ones who refrain from doing so."
Ibrahim Al Balushi also spoke about the 'beautiful' traditions of Qaranqasho in Sohar in North Al Batinah, where children dress themselves up as clowns, and in other costumes. They also decorate a donkey-drawn cart, with one of them riding on the animal, while the rest of the children sit in the cart.
"Usually, the people of Sohar take advantage of this occasion to draw attention to any important event that the country, or the world, is exposed to," he said. "The best example right now is the COVID-19 pandemic. Other groups of adults also wear funny clothes, so that they can add to the entertainment the children provide, and escort them as they move between homes to collect the sweets and other gifts people give them."
Other issues portrayed during Qaranqasho are the occupation of Palestine, said Ibrahim Al Balushi.
"They wear the uniforms of the Palestinian resistance, while raising the Palestinian flags and banners supporting its people, as well as drawing attention to their forced displacement, the demolition of their homes, the imprisonment of their youth, and the death of innocents from bullets fired by the Israelis, during peaceful demonstrations organised by Palestinians to ask for their rights," he said.
"These issues also stand for the legitimacy of the Palestinian people, who are subject to the Zionist Israeli occupation in Jerusalem (which we call Al Quds), and other parts of the country, and are prevented from saying their prayers during Ramadan."
Abdullah Al Maqhousi, from Jalan Bani Bu Ali, shed light on the traditions in North Al Sharqiyah, where people give these children money for Qaranqasho, the day after which they organise a habta, a traditional Eid Al Fitr marketplace where sweets, toys, and clothes are sold, among other things. The children buy whatever they want with the money they have collected.
In Wilayat Saham in North Al Batinah, Qaranqasho is celebrated in the afternoon, on the day that falls two days before Eid. This period is called 'Eid Al Hallak', or the Eid of the Dead.
"On this day, elderly men and women offer charity on behalf of their dead relatives," recalled Mohammed Al Badi. "This can be in the form of sweets or money given to children, while mothers slaughter chickens to make rice dishes and harees, and distribute it to the needy. By giving it to these people, it is as if they are providing for the souls of their deceased family members."
"This is done with the aim of providing rest to the dead, who lie in their graves, as well as a better chance for them to enter paradise, provide expiation from their sins, and increase the acts of kindness they have committed so that they can meet God having done many good deeds," he added.
Children, on this day, wear their finest clothes, and separately visit people's homes to collect gifts from them, while trying to not use any of the phrases that are normally associated with Qaranqasho. They make a game of it, in seeing who can gather the largest amount of money, or the most goodies, and once they've finished their rounds, the children gather together and share fond or funny memories of the things they've seen that day."
Rahma Al Zaabi, from Al Khaboura in North Al Batinah, spoke of a tradition that takes place the night before Qaranqasho, called Hombuker, when children go out to the seashore, gather up seashells, and string them together into necklaces that they tap against each other to make a distinct noise, as they move about in groups.
"They sing a hymn – which is also called Hombuker – and praise those who give them sweets, while teasing those who do not," she added. "We often go with them to share in their joy. On this day, mothers also make rice dishes with meat, fish, or chicken, as well as harees and sweets, and distribute them to the poor, as charity for the souls of their dead relatives. This is also done for the same reasons of the people in Saham."