OMANI SHUWA RICE
Ingredients
1 leg of lamb, from ( 1.5kg to 2.5kg)
10 cloves garlic, crushed
2 tsp ground pepper
1½ tsp ground cumin
2 tsp ground coriander seeds
1½ tsp turmeric powder
1 tsp ground cloves
25-30 dry red chili powdered (adjust the spice level according to your needs)
4 tbsp cooking oil
3 tbsp vinegar
Juice of 1 lemon
Preparation
For the rice
2-3 cups basmati rice
5 to 6 cups of water to cook the rice
1½ tsp cumin seeds
1 tsp peppercorns
3-4 cardamom pods
3-4 cloves
3 inch cinnamon
2 star anise
3-4 bay leaves
Salt to taste
Yellow food colour ( 2 drops)
Preparation
Adjust the amount of dry red chili according to your spice level.
Thoroughly combine all ingredients, except lamb leg. Rub the spices on the lamb leg.
Wrap the meat using dry banana leaves or palm leaves.
Marinate in the refrigerator overnight.
Place the marinated meat wrapped up in the banana leaf in a roasting pan and cover, then roast in a 190c pre-heated oven for 3 to 4 hours or until the leg is well cooked, basting from pan juices every 30 minutes and turning over once or twice. Uncover and roast at 200c for 20 minutes, turning over once.
Cook till the meat is ready and just about to fall off the bone.
For cooking the rice
Heat oil in a heavy bottom pan, add in the whole spices one by one. Sauté for nearly 30 seconds.
Add in the water.
When water starts to boil, add the soaked rice.
Cook till the rice has almost done, do not overcook it.
Add the food colouring and serve shuwa with rice.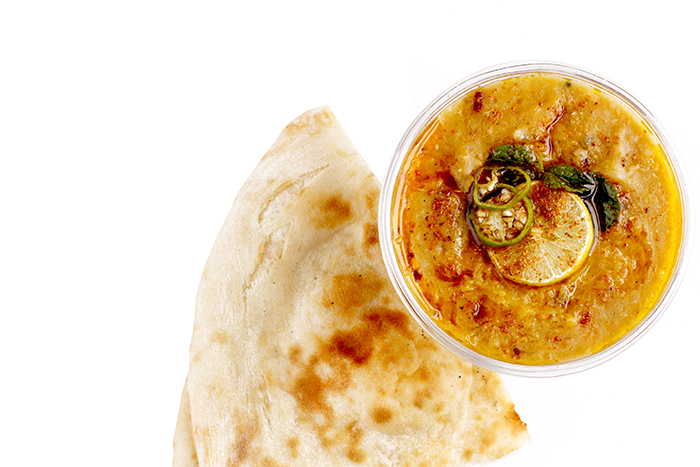 MUTTON HALEEM
Ingredients
500g good quality boneless lamb meat, cleaned and cut into small pieces
1 and 1/2 cup cracked wheat
1 tbsp bengal gram lentils
1 tbsp moong dal ( yellow lentil)
1 tbsp masoor dal( red lentil)
5 tbsp ghee / oil
1 tsp cumin seeds
2-3 cloves
2-3 cardamom
3 medium onions
2 tbsp ginger garlic paste
4 green chilies
1 cup yoghurt
2 tomatoes, finely chopped
1 tsp turmeric powder
2 tsp red chili powder
1 bunch coriander leaves
Salt to taste
lemon wedges
Coriander leaves for garnishing
Preparation
Soak the lentils and cracked wheat for about 1 hour.
Heat oil / ghee in a pressure cooker and add the cumin seeds, cloves, cardamom and green chilli. Fry for a minute and add the onions. Fry until translucent.
Now stir in the ginger garlic paste and boneless mutton and fry till all the water has dried up from the mutton.
Throw in the red chili powder, turmeric powder, yoghurt, tomatoes and salt. Mix it in and add the soaked lentils and cracked wheat.
Add 5 - 6 cups of water and give it a stir and close the lid of the pressure cooker and cook for 2 whistles or 20 minutes.
(Adjust the water quantity to prevent the bottom from getting burnt.)
Allow the pressure cooker to cool down and cook on low heat till done stirring frequently. Please make sure that the lentils, wheat have combined well with the meat.
The consistency should be thick and not runny in texture.
Serve hot with fried onions, lemon wedges, coriander leaves and ginger julienne.
Tip –Dry roast the wheat, bengal gram, moong dal and masoor dal till they lightly change the colour.
Allow it to cool and dry grind it in a coffee grinder to a lightly coarse powder and add accordingly to the meat before pressure cooking.
This is an alternative to soaking the lentils and wheat.
DRY SWEET SEVIYAN
Ingredients
1 cup of broken dry seviyan (vermicelli)
3 cups of sugar
Ghee for frying and tempering
3 cups of milk
1/4 a cup of slivered almonds
1/4 cup of slivered pistachios
1/4 cup of sultanas
2-5 cardamom
2-5 cloves
A pinch of saffron
Preparation
Begin by tempering the cardamom and cloves in ghee and once fragrant,gently fry the seviyan in the tempered ghee in a saucepan on medium heat.
To ensure that the seviyan do not burn, keep stirring until the seviyan turns a medium brown colour. In another pan make a simple sugar syrup to string consistency.
Add fried seviyan to the sugar syrup and combine well.
Now gently pour milk until the whole mixture is well combined and thick. Lower the heat and cover until the milk is absorbed and the seviyan are cooked completely.
Finish off by adding saffron which has been soaked in hot milk for about 20 mins, to the seviyan.