Helping someone in need has always been a huge part of the spirit of Ramadan, and this year it's more important than ever. As we battle the pandemic, there might be many who are less privileged or are finding it difficult to prepare their Iftar meals as someone in their family might be unwell. Cooking for a less fortunate family or a neighbour going through difficult times is a great act of kindness and empathy. Since this year you cannot invite people at home to join for iftar, send food parcels to the person in need.Your small gesture will make a world of difference in someone's life.
Iftar recipe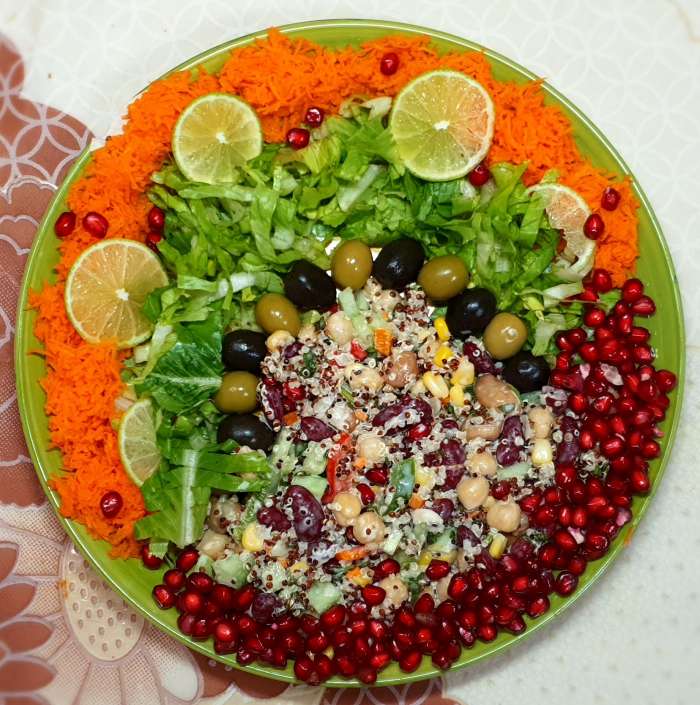 Healthy Quinoa Legume Salad Mix
Ingredients
½ cup tri-colour quinoa, soaked for 30 minutes
½ cup cooked chickpeas
½ cup cooked red kidney beans
¼ cup boiled corn
1 cucumber, chopped
¼ cup finely chopped capsicum
½ cup shredded carrot
½ cup chopped lettuce.
½ cup pomegranate seeds
Black or green olives
2 tbsp olive oil
2 tsp vinegar or lemon juice
1 tsp maple syrup
3 tbsp garlic sauce
Salt and pepper for seasoning
Preparation
Take a thick bottom pot, add 2-3 cups of water to a boil. Once boiling, add quinoa. Reduce to a simmer, cover, and cook until tender, 7-10 minutes. Once done, strain the quinoa and set aside to cool down.
Combine in another small bowl to marinate vinegar or lemon juice, maple syrup and garlic sauce.
Toss quinoa in a large bowl with all the veggies and legume, mix along with the marinate. Season to taste with salt and pepper. Drizzle olive oil before serving.- Firdaus Noorain
Health tip
While you fast smoothies are a really easy, tasty way to fuel yourselves. It's a great way to get vitamins and micronutrients from fruits and vegetables.
Ramadan words
"So remember Me; I will remember you. And be grateful to Me and do not deny Me