PIZZA TARTLETS
Ingredients
For the tarts
1 cup all-purpose flour
½ tsp salt
½ tsp sugar
¼ cup cold unsalted butter
¼ cup cold water
For the stuffing
Few black olives, sliced for garnish
2 tbsp red bell pepper, finely chopped
2 tbsp yellow bell pepper, finely chopped
2 tbsp corn pearls, steamed
3 tbsp pizza sauce
1 tsp garlic salt
Salt
1 tablespoon olive oil
½ cup mozzarella cheese
Preparation
In a bowl, whisk together flour, sugar and salt.
Add butter to the flour mixture.
Add water gradually to the flour and with hands, mix until just combined.
Wrap dough with plastic wrap and chill in the refrigerator for about an hour.
Prepare the stuffing, by adding pizza sauce, olive oil along with vegetables in a mixing bowl.
Season with garlic salt and salt to taste. Mix well and keep aside.
Knead the dough lightly and on a floured surface roll to a 1/4" thin circle.
Now cut out rounds with a round cutter.
Now gently press the small rounds in each tart case and prick with a fork.
Bake in a preheated oven at 190c for 5 to 7 minutes. Remove for the stuffing.
Spoon in the pizza sauce vegetable mix on the tarts to fill just half.
Now sprinkle little cheese, more stuffing mix and lastly sprinkle cheese.
Bake till the shells are crisp and the cheese has melted for another 5 minutes.
Serve hot garnished with black olives on top.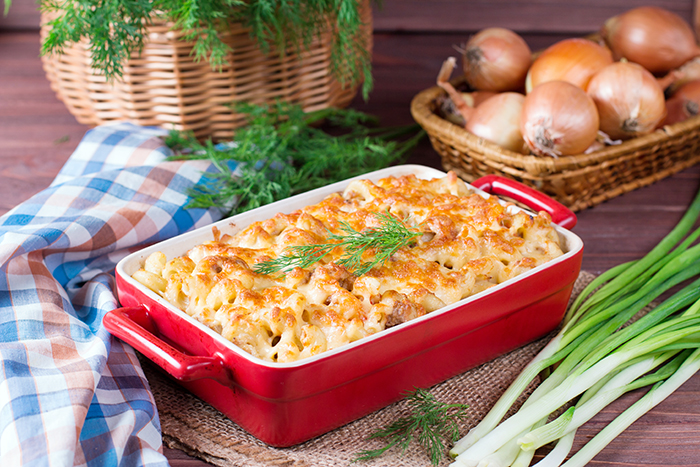 CHICKEN PASTA BAKE
Ingredients
2 large chicken breasts (cubed)
1 tbsp garlic (minced)
1 tsp olive oil
1 tsp red chilli flakes
1/4 tsp salt
1/4 tsp black pepper crushed
2 tbsp olive oil
1 large onion peeled and chopped
1 ½ cup broccoli florets
1 tbsp tomato puree
½ tsp dried oregano
2 cups macaroni pasta - boiled and drained
1 and half cups grated cheddar cheese
1/2 cup milk
Preparation
In a bowl add the chicken, minced garlic, red chili flakes, salt, black pepper and olive oil. Mix well and keep aside for 15 minutes.
Place an ovenproof skillet over medium-high heat, add 2tbsp olive and chopped onion and fry until it begins to soften and turn translucent.
Now add the marinated chicken and cook till it changes colour, about 3 minutes.
Now add the broccoli, tomato puree and oregano. Stir and cook until broccoli florets are tender.
Add the boiled pasta and toss well to combine. Stir in the cheese and milk and mix well.
Place the skillet in a preheated oven at 180C and bake for 20 minutes or till the cheese melts.
Serve hot.