Picnics are the perfect way to spend some quality time together with families. Enjoy Oman's cool weather with these delicious picnic food ideas.


RAINBOW SALAD

Ingredients
1 can red kidney beans, drained and rinsed
1/2 cup red bell pepper, finely chopped
1/2 cup green bell pepper,finely chopped
1/2 cup orange bell pepper,finely chopped
1/2 cup yellow bell pepper, finely chopped
1/4 cup onion,diced
1/2 cup purple cabbage, finely chopped
Dressing:
3tbsp olive oil
2tbsp mayonaise
1/2 tsp Dijon mustard
1 clove garlic, minced
Salt and pepper as per taste

Preparation
Mix the salad ingredients in a large bowl. Gently add the dressing.
Toss to combine well. Leave it to rest for half hour.
Serve at room temperature or cold.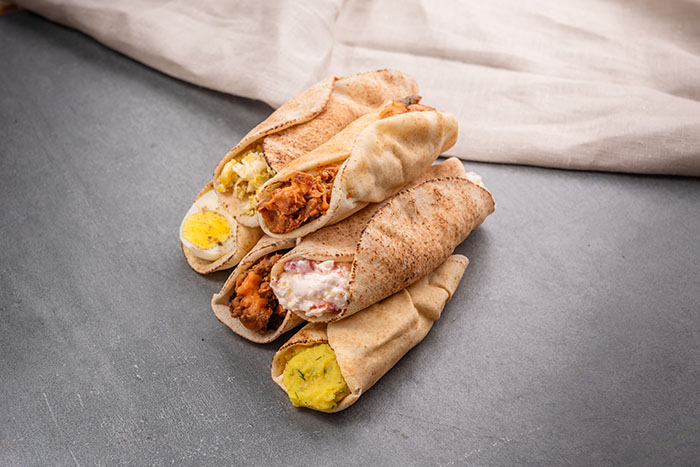 CHICKEN LABNEH WRAPS
Ingredients
2tbsp olive oil
2 cups chicken, boiled and shredded
1 large onion, halved and thinly sliced
1 medium green bell pepper- finely chopped
½ tsp paprika
½ tsp salt
¼ tsp black pepper
2 cloves garlic, minced
1 cup labneh
8 tortilla wraps
A handful of chopped fresh parsley

Preparation
Heat oil over high heat in a large, deep skillet. Once hot, add garlic and saute till fragrant.
Add the onion and saute till pink. Then add the chicken and bell pepper and stir fry for about 4 minutes.
Season with the spices and cook for another 2 to 3 minutes. Switch off the flame.
Meanwhile on a griddle or pan, gently toast the wraps.
Spread a generous layer of labneh on 1 side of the toasted tortilla wrap.
Top with the chicken and bell pepper mixture and roll.
Serve warm or room temperature.

MASALA PASTA
Ingredients
1 cup macaroni ( boiled and drained as per packet instructions)
1tbsp oil
1tsp butter
2 cloves garlic, grated
½ onion, finely chopped
2 medium tomatoes, finely chopped
½ tsp red chilli powder
2 tbsp tomato sauce
½ tsp garam masala
salt and pepper as per taste
2 tbsp corn
¼ cup bell pepper, finely chopped
1 carrot, finely chopped
3 tbsp water
1/2 tsp mixed italian herbs

Preparation
In a saucepan, melt butter and add oil. Heat and then add garlic. Saute the garlic till fragrant.
Add onions and saute till they turn soft.
Add the tomatoes and cook till they are mushy.
Season with spices of chilli powder,garam masala,salt and pepper.
Continue to saute till the spices get cooked completely.
Add in the vegetables and cook for another 6 to 7 minutes. Please add some water so that the spices dont burn.
Stir in the tomato sauce and sprinkle mixed herbs.
Mix well to incorporate flavours.Finally, add in cooked pasta and stir so that the sauce and spices coat it well.
Switch off the flame, dish out in a picnic casserole box or hot box.

PEANUT BUTTER FUDGE

Ingredients
1 cup brown sugar
1/2 cup condensed milk
1 cup peanut butter

Preparation
Grease an 8x8-inch baking pan.
In a medium saucepan, bring sugar and milk to a boil. Allow to boil for about 2 minutes, stirring regularly, and then remove from heat.
Add the peanut butter and stir until smooth.
Pour the mixture into the pan and allow to cool until set. Slice into 1-inch squares.