HOMEMADE WALNUT SAUCE
Ingredients
1/4 cup milk
1/4 cup torn bread pieces
1/2 cup chopped and toasted walnuts
1 tbsp grated parmesan cheese
2 tbsp extra virgin olive oil
Salt and pepper to taste
Preparation
Put the torn bread pieces, milk, walnuts, garlic ,grated parmesan cheese,salt and pepper into a small blender or food processor.
Blend them all together until well combined and smooth.
Add the olive oil to the blender/food processor and pulse until smooth.
Use for pasta or as a dip.

HOMEMADE SALTED CARAMEL SAUCE
Ingredients
1 cup granulated sugar
1/3 cup water
3/4 cup heavy cream
2 tbsp salted butter
1 tsp vanilla extract optional
Preparation
Add the sugar to a heavy bottomed saucepan and pour water to moisten it completely.
Place the pot over medium heat and cook until the sugar dissolves and turns clear for 2 -3 minutes.
Raise the heat to medium high, and cook until the sugar changes colour to light brown and then amber for about 10 minutes.
Turn the heat off and immediately add the heavy cream.
Stir in the butter and vanilla extract and mix till all the ingredients combine well.
If need be, turn on heat to low, and continue to stir well incase the ingredients do not form a uniform mix.
Once, well combined , turn off and cool.Store in air tight container and use as and when required.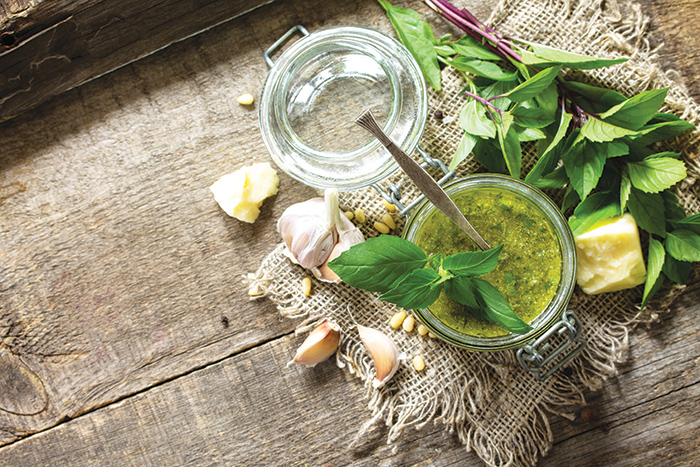 NUT FREE HOMEMADE PESTO SAUCE
Ingredients
1 cup fresh basil (chopped)
3/4 cup extra-virgin olive
1/2 cup grated parmesan cheese
1/4 cup roasted salted sunflower seeds
A dash of freshly squeezed lime
Salt and pepper to taste
Preparation
Combine the ingredients in a food processor and pulse until smooth.
Store in an air tight container and in the refrigerator upto a week.
This can be freezed too upto 6 months.