Muscat: Omani mountaineer Nadhira Al Harthy and her fellow climbers braved temperatures that plummeted to -12 degrees Celsius and bitterly cold winds roaring past at 100 kph in their endeavour to scale Ama Dablam, one of Nepal's most challenging peaks.

Al Harthy and five other climbers took 20 days to scale up and return down the 6,812 metre mountain, after beginning their ascent on January 3, with the adverse weather conditions meaning they had to hurry the last leg of their climb to the summit, which is often the most dangerous part of the journey.

"This was the first time I'd been to Nepal in the winter," says Nadhira, who in 2019, became the first Omani woman to climb Mount Everest, the highest mountain in the world.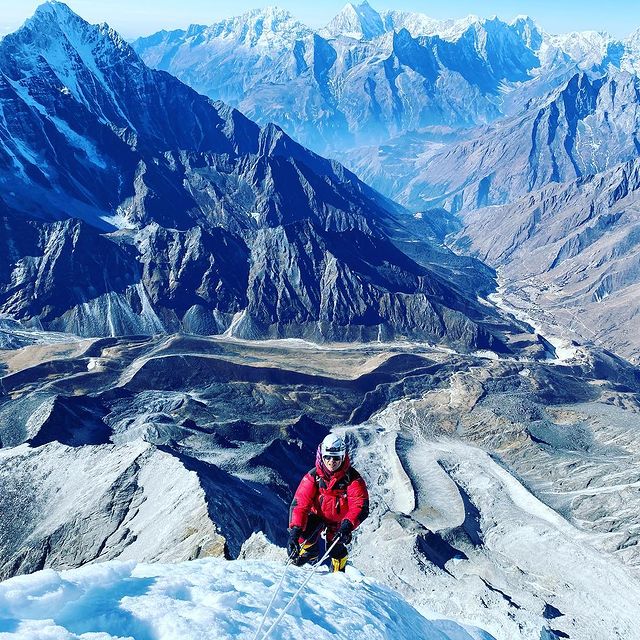 "It was very cold: at night, temperatures would fall to -12 degrees, and the wind made it even colder. The wind speed gave us a very small window to climb the summit. The wind speed ranged from 50 to 100 kph. We were waiting there for the wind to die down before being able to climb the summit. We realised there was only a two-day window for us to climb the summit, and when we reached the peak, the wind had reached speed of 45 kph. You can finish the climb in a smaller span of time, maybe 20 days, but because of the weather, and because of COVID-19, it took longer to finish the expedition, " she adds.
Nadhira left Oman on December 19 and underwent two weeks' quarantine in Nepal before undergoing much-needed acclimatisation to the high altitude and frigid weather conditions at the base camp erected at the foot of the mountain.

Her aside, the team included climbers from Turkey, Mexico, India, Egypt, and Qatar. They'd signed up with a mountaineering company called Summit Treks, who prepared and organised everything they'd need, such as Sherpas to carry their loads, guides to take them up and down the mountain, their base camp, and a mobile kitchen to cook food.

While she does carry plenty of equipment vital for her to climb the mountains and survive up there, one item that's always with her on these treks is a satellite phone that her family have made it mandatory for her to carry.

"Whichever mountain I go up, I have to keep in touch with my parents: this is the condition under which my mom lets me go," she admits.

"My family is of course, very, very worried whenever I go on these missions. There is a form of Wi-Fi there called Everest Link, which is very, very expensive, but I need it to keep in touch with my mom and the rest of my family.

"When I am at a camp at a higher altitude, I use my satellite phone to give them a call or send them a message telling them I am fine," added Nadhira, whose inspiration to climb Everest came from the late Khaled Al Siyabi, the first Omani to ever scale Mount Everest.

"He actually passed away in 2019, when I was climbing the mountain," she admits.
"When I heard of his death, it actually inspired me further, because I wanted to do it for him. He was my first and continues to remain my biggest source of inspiration."


Nadhira, who is originally from the region of South Sharqiyah, only seriously began considering mountaineering in 2017, and has never looked back since.

"Whenever I am on a mountain, or even hiking in Oman, I often train alone," she explains. "I love being alone up there. Even when I am with a group, I feel like it is just the mountain and me. I feel the strength and power of nature, and how it impacts me. I feel so small there: when you are on the mountain, you realise that not everything is under your control."