TUNA PASTA BAKE
Ingredients
• 2 cups penne pasta
• 1/2 medium onion, diced
• 3 cloves of garlic, minced
• 1 3/4 cup finely chopped tomatoes
• 1 tablespoon tomato paste
• 1/2 tablespoon Italian mixed herbs
• Salt and pepper, to taste
• 2 cans of tuna, drained
• 1/2 cup shredded mozarella
• Fresh basil, finely chopped for garnish
Preparation
• Preheat oven to 190 degrees C..Boil pasta as per packet instructions and drain and keep aside.
• Heat a large pan over medium-high heat. When the pan is hot, add 1 tbsp of olive oil .
• Then add onion and garlic and cook until softened and fragrant, about 3-5 minutes.
• Add the tomatoes, tomato paste, and mixed herbs, stir to combine. Season with salt and pepper. Lower the heat.
• Add the pasta and toss to coat. Add the tuna. Gently toss and turn off the heat.
• Grease a baking dash. Add the pasta and tuna mix to it.
• Sprinkle cheese on top in an even layer. Bake for 15 minutes, till the cheese melts and top is light golden.
• Garnish with fresh basil.Serve hot.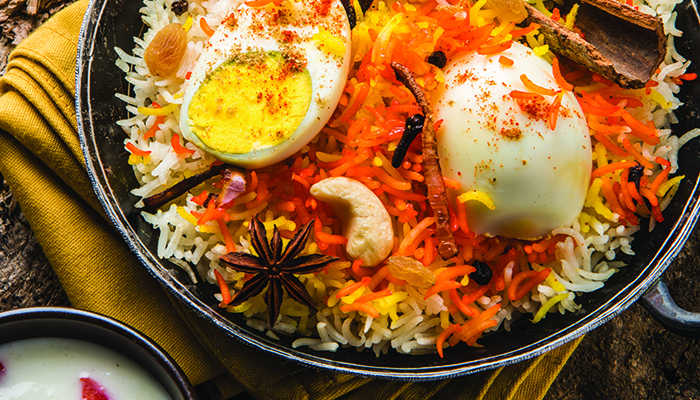 EGG DUM BIRYANI
Ingredients
• 4-5 hard boiled eggs, peel and make long slits along each egg
• 2 large onions, thinly sliced
• 1 small tomato, finely chopped
• 2 tbsp finely chopped coriander leaves
• 2 tbsp finely chopped mint leaves
• 3 green slit chillies
• 2 tbsp ghee
• 1 1/2 tbsp oil
• 3/4 cup yoghurt, whisked
• 1/2 tbsp ginger-garlic paste
• 1/4 tbsp red chilli powder
• 1/2 tbsp coriander powder
• 2 tbsp lemon juice
• Salt as required
• 2 tbsp biryani masala
• 1 tsp garam masala
Ingredients for rice:
• 2 1/2 cups basmati rice
• 3 cloves
• 5 cardamoms
• 1/2' cinnamon stick
• 2 bay leaves
• 1/2 tbsp oil
• 1 tbsp salt
• 6 cups of water
Preparation
• Cook basmati rice in 6 cups of water along with bay leaves, cloves, cinnamon, cardamom, salt and oil.
• Strain the water and spread the rice on a large wide plate. Allow to cool.
• Heat 1 1/2 tbsps oil + 1 1/2 tbsps ghee in a pot, add sliced onions, saute for 10 minutes till golden brown. Remove half of the fried onions and keep aside.
• To the remaining half of the fried onions, add green chillies, 1tbsp of mint leaves, 1tbsp of coriander leaves and ginger- -garlic paste and saute for 2 minutes.
• Add red chilli powder, coriander powder, biryani masala powder, garam masala and salt and combine well. Add chopped tomatoes and saute till tomatoes soften.
• Add eggs and saute till well coated with the spices.
• Add yoghurt and mix well. Cook till the oil separates. Add lemon juice and mix well for the flavours to incorporate. Turn off the heat and keep aside.
• Take another wide deep pot to prepare the biryani. Grease the pot with oil, add half the rice as a first layer followed by the egg masala.
• Spread the remaining rice over the egg masala layer, pour 1/2 tbsp of ghee all over the rice, add the fried onions.
• Next sprinkle remaining coriander leaves and mint leaves.
• Place the lid tight and cook on medium high flame for 7 minutes.
• Reduce the heat to low and cook for another 20 minutes with lid sealed by dough. Serve hot with raita.