An 11-year-old girl has become the first person in Oman to represent the country at one of the most prestigious go-karting championships in the world.

Shivali Sinha, who originally comes from India, is looking forward to racing for her country of residence at the Grand Finals of the 2020 Rotax Max Challenge, which will take place between 23 and 30 January this year.

She earned the right to take part after finishing a runner-up in the regional Rotax Max Gulf Championship, which took place in the United Arab Emirates. Racers from all over the Middle East travelled to take part in a series of eight races held during the year.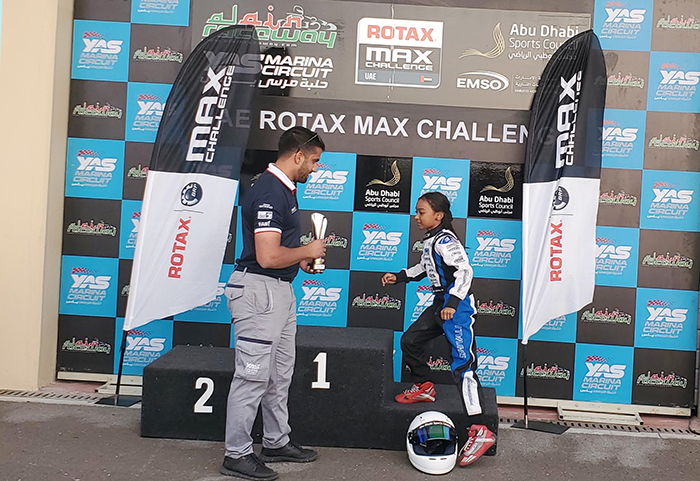 Although she has been invited to take part in the Grand Final, there is one stumbling block preventing her from taking to the racetrack: Shivali requires a visa to travel to Portugal, but the country has severely restricted the number of people who can apply for one, owing to the pandemic.

"This is the most prestigious karting event in the world," said her father, Amit Sinha. "There are few events in karting as big as this one. Hopefully, we can secure a visa and travel to Portugal. The organisers are trying their level best to arrange for one, as are the team for which Shivali races, Birel Art Middle East

"Portugal's Ministry of Foreign Affairs is trying to help us, because only a restricted number of visas are being issued at present, and priority is being given to EU and European nationals requiring essential travel," he added. "Their visa ban had been extended until 15 January, and the Consulate of Portugal in Oman is trying to help us. They've been following up with the ministry to see if there is a way for Shivali to go. They have actually been most helpful."

While the Portuguese authorities do try and work out the legalities to allow Shivali to go with her mechanic, a doctor, and her guardian – in this case, her father – to the Algarve International Kartdrome, her mother, Rashmi, is trying to see if there are other government authorities capable of stepping in.

Rashmi, who won three competitions at the the Mrs India Asia Pacific beauty pageant in 2019, had, during the pandemic, help organise flights for dozens of migrant workers in the country who needed to travel home, some of whom unfortunately did not understand the new health and safety procedures they needed to follow ahead of booking their tickets.

"I am trying to secure assistance from the Ministry of External Affairs in India as well, but it is confusing to know whom to approach," she admitted. "I did speak to the Embassy of India here, but they asked me to approach the organisers for help. This is a lifetime opportunity and a matter of pride for Oman that someone is representing the country at these world finals."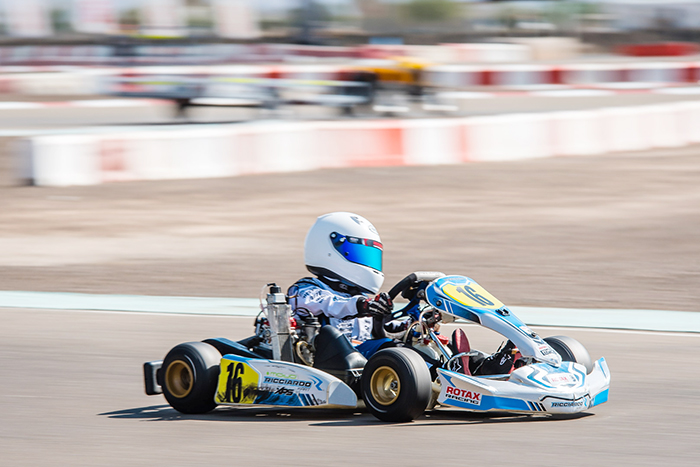 Although she is proud that her daughter plans to compete with some of the best young racers in the world, her concern for her as a mother always comes first. The breakneck speeds, high-impact collisions, and the dangerous consequences of making even a small error on the racetrack are something Rashmi cannot see her daughter going through.

"As her mother, I don't normally watch her drive," she revealed. "I put her helmet on for her, I bless her, and I then watch her go onto the track, because I cannot watch if something happens to her on the pitch. I go to the stands, sit there and pray for her safe return. I never pray that she wins every time…what is more important for me is she comes back unharmed.

"I get really scared because they drive at very high speeds," Rashmi went on to say. "My heart beats really rapidly when these children are on the track, and I am afraid of anything happening to them. Their cars also skid very easily on the surface, so that could cause problems as well."

As Rashmi herself puts it though, 'my daughter is the exact opposite of me. She loves speed."

It is a statement her young daughter seems to agree with only too happily: an avid runner before the she found the acceleration she was capable of in a go-kart, what attracted Shivali to both sports was not the thrill of winning or the joy of the pursuit, but the feeling of freedom she feels when she is at speed.

She's been racing since 2018, and hasn't looked back since, unless it is to steal a glance at the other racers trailing in her wake. "I like the speed and the risk on the track," she admitted candidly. "When I ran, I felt free. But the thrill of speed I get from karting simply cannot be matched by running, because it is so much faster.

"But this game is not just about speed – it is about overtaking your opponent," she added. "While racing, it is important that my car does not spin out of my control. If it begins to spin, I might lose my position in the race, and it is more important that I get it back under control, because serious injury could occur. I need to practice my racing style properly.

"I need to register this in my mind, and once this is done, only then can I think about how to overtake my opponents." - [email protected]