Revisiting Oman's restaurants after they were allowed to reopen has been an interesting experience. It's great to see the happiness people get when they're outdoors, and the respite it brings from the constant worries of the COVID-19 pandemic. The measures put in place to limit the spread of the coronavirus might be inconvenient, but they are a small price to pay for safety.
Ever since Oman's restaurants were given the go-ahead to open a few weeks ago, it has once again become, as it was before the pandemic, a tradition to go out to eat on the weekend, with either friends or family.
Deciding where to go, though, always takes a considerable amount of time. Not because we can't all agree on what to eat, but because we're debating whether it's worth it to go out again, given the dangers of COVID-19.
Many of the elements we accepted as a normal part of our lives may have come back, but going outside for long periods of time means we need to be extra careful.
I've been rediscovering many of my favourite haunts over the past few days, and here's what I've found.

Day 1
Face masks and fine food

The order to reopen restaurants to diners was passed but a few days ago. It's been five months since many of us stepped out to enjoy a meal.
Mom, for one, is very excited to head back out again, but she's also understandably cautious. Dad is happy to settle for a parcel. The heavy wooden doors swing inwards, we're ushered in quickly, our temperatures are taken – beep, beep – and are swiftly escorted to our table. We might be wearing only masks, but our waiter? He's got on a mask, a face shield, and latex gloves. Thank god for air-conditioning (for his sake, not mine). We're given pamphlet-like menus, not in our hands, but on a high stool quickly erected next to our table. As we'd soon find out, this is where our food will be placed once ready. We have to serve ourselves from there.
We're given oven-heated ceramic plates, and the food, which follows swiftly, is just as we remember it: piping hot and delicious. Throughout our time at the restaurant, where social distancing measures have been kept, there is a steady flow of customers.

Day 2
Styrofoam and plastic

The weekend is back, and after a relatively more expensive meal last time around, it's time to keep spending levels low.
The restaurant we choose is within walking distance from our home, and 10 minutes later, we arrive at the glass double doors of our destination. No permanent cutlery here: we're served on Styrofoam plates, our sides come in little plastic bowls. We ask for a spoon: it is, naturally, plastic, bought en masse in those packs of 50 in which they're sold in supermarkets.
There is, normally, an order in which our food comes out of the kitchen. Not this time, though: our dishes are served to us as soon as they are ready. The aim is simple: get served quickly, eat, and leave immediately.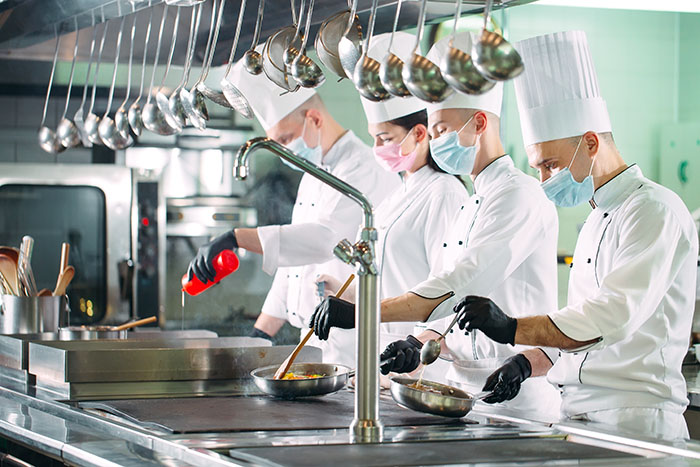 Day 3
Solo

It's been a while since we've met as friends: all of us have chosen caution over camaraderie while everything's been shut. We decided to meet at a restaurant all of us are familiar with.
We eat off ceramic plates this time as well. This is a meal we've looked forward to for a long time, and the food is just as delicious as we remember it to be. There is little time wasted in chatting while such an amazing meal lies in front of us. Yes, we're required to leave as soon as we finish, but that's not why our order is polished off so quickly.
It's a bit weird, though, that we're eating solo. But then again, there are far more important concerns for people to content with right now. The absence of a finger bowl – its soothing, warm water with a slice of lemon to remove the oil from our fingers, one of our traditions – is inconsequential in the grander, far more serious scheme of things.

Day 4
A walk along the Corniche

It's been a long day, and I want comfort food to ease the tension. I've not been to the Muttrah Corniche in a while – not since the pandemic began – but my favourite sandwich shop is calling me there once again.
It's quite clear others have been called there as well: Muttrah, closed off to those outside its immediate surroundings for a while during the pandemic, is once again teeming with life and activity. Families walk with their children, all of them in masks. A cat stares at a boy sitting inside one of the gazebos by the sea. He tries to scare her off my jumping in front of the animal…it doesn't seem to work. I wanted to pet the cat. I didn't, though.
Restaurants by the waterfront welcome a steady stream of customers, waiters spray down tables and quickly wipe them with a cloth before inviting new diners to take their seats. I've found the restaurant I plan to order from. I've been picturing, in my head, the sandwich I've wanted to eat for a while.
Unfortunately, it's been taken off the menu, as have a good number of other things. Shawarmas – ever a popular favourite – are evidently still on there: a little boy of about seven is happily chowing down on one near the entrance, a side of fries accompanying his food.
A tad disappointed, I order another sandwich from the menu, and take a walk to Muttrah Souq while it's being made. It's good to see customers return to the shops within. 15 minutes later, I am back at the restaurant, and decide to chow down. It's fantastic. My misgivings are forgiven. It's good to be back at the Corniche.
Restaurants may have shaved many things from their menus or swapped out their ingredients ... all of this is of course because of the economic impact the pandemic has had on their businesses, but as far as impacts go, this is but the smallest. The truth is that all of us who can eat out right now in the relative safety of the Sultanate are lucky to do so. Let us therefore appreciate the small pleasures in life that restaurants provide us, but make sure we keep an eye on the bigger picture. [email protected]