Muscat Finance partners with Omantel
Business
Sunday 01/December/2019 17:40 PM
By: Times News Service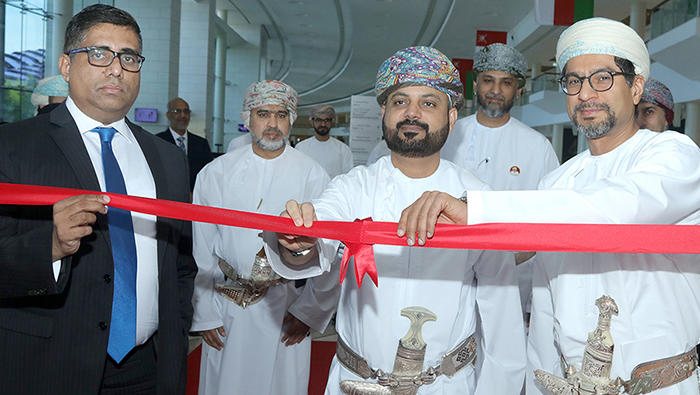 Muscat: Omantel and Muscat Finance have announced their partnership to offer Muscat Finance customers instalment payments through Omantel's large network of 175 Bill Payment Machines (BPMs). This is in line with both companies' digital transformation strategy.
With the launch of this facility, Muscat Finance has become the first finance company in the Sultanate to offer this seamless payment method making the payment process hassle-free and secure.
Speaking about this development, Faisal Mohammed Al Yousef, Chairman, Muscat Finance said, "We value the start of this new partnership with Oman's leading telecom operator, which also has a strong regional presence through its association with Zain Group.
"The fact that the telecommunications sector in general and Oman Telecommunications Company, in particular, has an important role to play in supporting the national economy, has made Omantel play a key role in the national development process, not only in the past but also in the next Oman digital strategy.
"Our customers will now be able to pay their monthly instalments using the 175 BPMs of Omantel, in a secure and quick method without the need to stand in waiting queues without any added costs to the customer."
Muscat Finance, being Oman's first established leasing company in Oman, is actively looking at ways of harnessing technology in a way that would not only serve its customers, but also to adopt this in a way that improves staff productivity so that they rise to roles of higher responsibility leaving the routine work to be carried out by robotic process automation. In turn, this would also lead to cost-benefit and efficiency enhance.
MF is hoping to benefit from the 4th Industrial Revolution through reviewing their current processes against possible available cost-effective solutions in addition to exploring possible strategic alliances."
Commenting on the initiative, Shaikh Talal Said Al Mamari, Chief Executive Officer of Omantel, said: "Our collaboration with Muscat Finance reiterates our commitment to providing the nation with the latest innovations to enhance their day to day activities. This initiative is also in line with our efforts to support the 'Digital Oman Strategy' and enable different sectors to serve customers more effectively and seamlessly, as our bill payment machines are strategically located at convenient and easy to access locations across the Sultanate".
Payment through Omantel's Bill Payment Machines comes with a varied list of advantages including immediate receipt of money without any extra charges on the cash deposit made by the customer. A partial payment option is also available. Since the Bill Payment Machines are available round-the-clock, the customer can access them at their convenience. The process is a straight-forward one that allows customers to finalise their transactions as quickly as possible while avoiding long queues.
Customers can take advantage of 175 plus Omantel Bill Payment Machines that are available in convenient locations like malls and petrol pumps all over Oman and will be able to access their Muscat Finance accounts through customised branding options on Omantel's Bill Payment Machines screens.